Every one has to start from somewhere, to go anywhere they might dream. And any encouragement along the way, inspires us to actively pursue our dreams of getting there.
As an admiring friend of a marvelous family, I learned their youngest, creative daughter was interested in the theatre and the arts. In a conversation, she mentioned she was studying drama at her High School, and that it was her goal to become an accomplished performer.
I was fortunate to see her perform in her High School play shortly before she graduated. I was in awe of her huge talent. And I enjoyed the professional depth of her performance. Now, I knew her given name, but then she said her stage name was
Annie
. It was then I had an idea...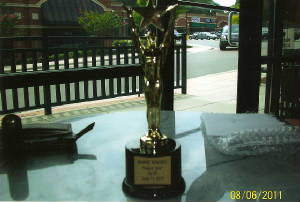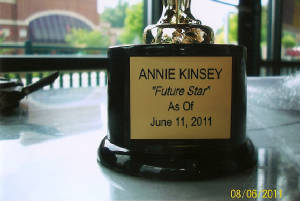 So last year Our Film Crew gave Annie, a deserving High School graduate, a symbolic Oscar. On the night of June 11, 2011 we saw her in her High School Drama Club's presentation of Rogers And Hammerstein's STATE FAIR (The Musical). As I've alluded, she gave an outstanding singing and dancing performance I will never forget.
A couple of months later, we held our "Oscar" Presentation at Dewey's Bakery and Coffee Shop. Annie was very surprised and pleased at receiving her "Oscar". It was a blast. Check out the pictures. They're the handy work of Mrs, J.P. Irwin our roving Photographer, creative writer, character actress, and race car driver. And yes, J.P. can hold the pedal to the metal! Trust me. And trust me when I tell you; I know a star when I see one.
And that's Annie.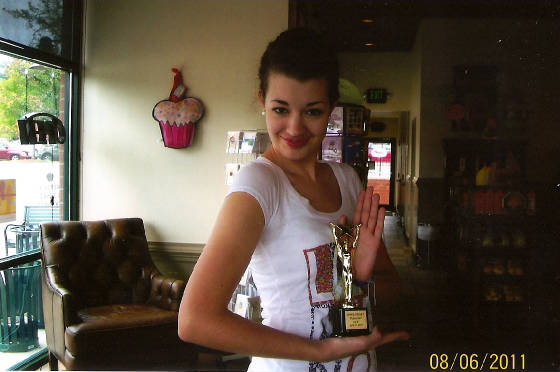 Bravo! Bravo! You go girl --- Show that "Oscar" why don't you. You deserve it! Just keep on practicing, and working your craft, and you'll get the real article one day. __Sam